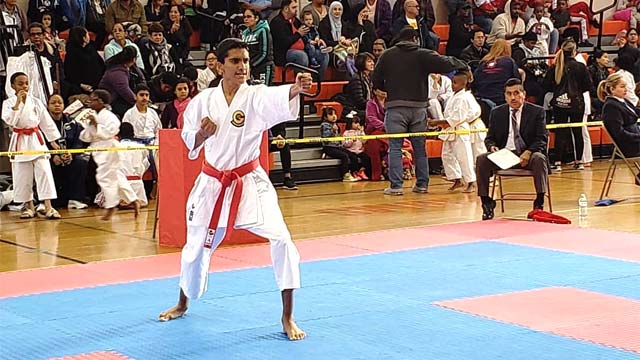 Congratulations to all the competitors for their outstanding performances at the Houston Open Karate tournament 2019. Thank you to all the senseis, parents and volunteers who came out to support the kick off of our Houston league, and the first[…..]
First Texas tournament of the year is getting near. January 19, 2019 TH Rogers School5840 San FelipeHouston, TX 77057 Time: 9:30am DEADLINE TO ENTER: 1-18-19 Cost is $70 for registration. REGISTER HERE We hope to see you there! 
Olympic Karate and Sports Center Houston dominated at the 2018 USA Open & Junior International Cup in Las Vegas last weekend. Our own Marvin Ndem won two golds in two Kumite divisions. This appearance led Marvin to be approached by[…..]
Tomodashi-Iostk 2018 Championship hosted by Kume Karate International Shito-Ryu USA Saturday, March 10. Marvin Ndem takes the gold in 18-34 Kumite! We're proud of you and your hard work and achievement! Let's keep it up! More tournaments coming. Jose Vargas[…..]
Looking for all the coverage of Olympic Karate and Sports Center's Houston Open Karate Tournament? We have it all right here! CLICK HERE Stay Strong.
The 2017 Traditional Karate Tournament was held on Saturday October 21st, 2017 at the Trotter Family YMCA and Olympic Karate and Sports Center brought home the gold!
Great day for Olympic Karate & Sports Center Houston competition team at Gojukensha Cup in Dallas. 3rd place 18-34 Kumite – Joey Allen 1st place in both Kata and Kumite +35yr Jose Vargas 1st place in 16-17 Kumite – Marvin[…..]
Congratulations to Jose Vargas on 1st place in Kata and 1st place in Kumite at the Texas State Championship in Killeen. We're proud of your hardwork and achievements. Let's train harder for the next one!
It's been a great end of April for Olympic Karate and Sports Center students as new belts were awarded after their tests earlier this month. As captured on Facebook Live below, Sensei Alex lined up students in his child Tuesday[…..]
Olympic Karate and Sports Center Houston had a very successful day at the Kume International Karate Championship Tomodachi 2017 held at the San Jacinto College Central campus in Pasadena, TX. Jose Vargas won two golds in Kata and Kumite for[…..]